Our Mission is to know God and to make Him known.
"The Lord gives strength to His People; The Lord blesses His people with Peace" ​
We believe that these three streams of the Church should converge together into one mighty river in our worship, our theology, and our lives
Reading the Bible daily is a powerful practice that can transform your life in many ways. It is an opportunity to connect with God and deepen your understanding of his word. When you read the Bible regularly, you gain insight into the teachings of Christ and the wisdom of the prophets. It allows you to draw inspiration and strength from the stories of those who came before us and to apply those lessons to your own life.
Reading the Bible daily is not just about acquiring knowledge, but also about cultivating a deeper relationship with God. It is a chance to listen to his voice and seek his guidance. When you make the Bible a part of your daily routine, you create a space in your life for reflection, contemplation, and spiritual growth.
There are many ways to incorporate daily Bible reading into your life. You might choose to set aside a specific time each day, such as first thing in the morning or before bed, to read and meditate on a few verses. You might also consider joining a Bible study group or using a devotional guide to help you stay on track.
Whatever approach you choose, the most important thing is to be consistent. Make a commitment to reading the Bible daily and stick to it. Over time, you will begin to see the positive effects of this practice in your life. You will feel more grounded, centered, and connected to God, and you will be better equipped to navigate the challenges and joys of everyday life.
"Cultivating an awareness of Christ's presence"
We are excited to announce a new chapter in the life of our church. As we continue to grow and serve our community, we have come to realize that our current facilities no longer meet our needs. We have therefore launched a building project to construct a new church building that will serve us and our community for generations to come.
Our new church building will be a place of worship, fellowship, and service. It will be a space where we can come together to deepen our faith, build relationships, and serve those in need. The new building will also enable us to expand our programs and ministries and provide a welcoming space for all.
We are reaching out to you today to ask for your support in making this vision a reality. We are seeking to raise funds to cover the construction costs of the new building. We believe that this project is not only important for our church, but for the entire community we serve.
There are many ways that you can support this project. You can make a one-time donation or pledge a recurring donation over a set period of time. Every donation, no matter the size, will make a significant impact on this project. We are so grateful for your support, and we look forward to working together to build a new home for our church and our community.
Proposed
San Juan Evangelista Parish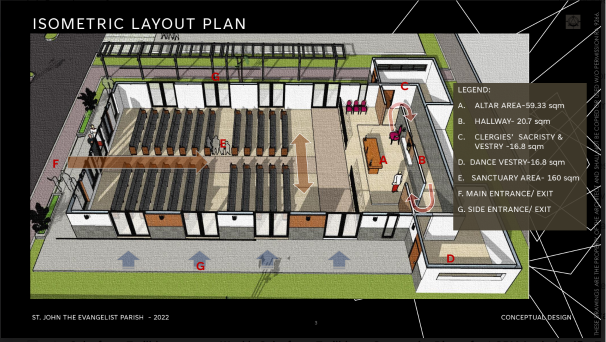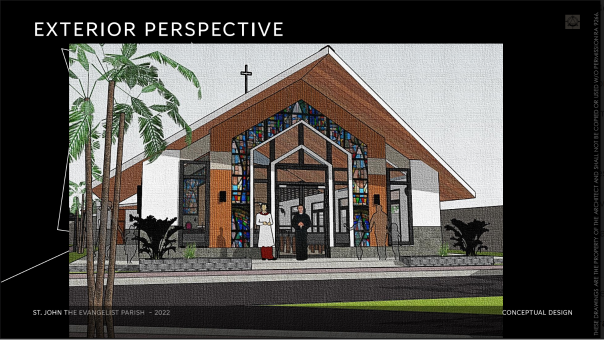 "And I say also unto thee, Thou art Peter, and upon this rock I will build my church; and the gates of hell shall not prevail against it"